This post is also available in: Indonesian
As a tropical country, climate in Indonesia is a challenge for astronomer, and it will become significant for the Total Solar Eclipse next year.
In March 2016 when totality passes over Indonesia, many cities will experiencing the darkness.  Astronomers, eclipse chasers and enthusiast will have a venture in many cities in Indonesia. But how about the weather? Here in this page, we re-post climate characteristics article from National Institute of Aeronautics and Space (LAPAN)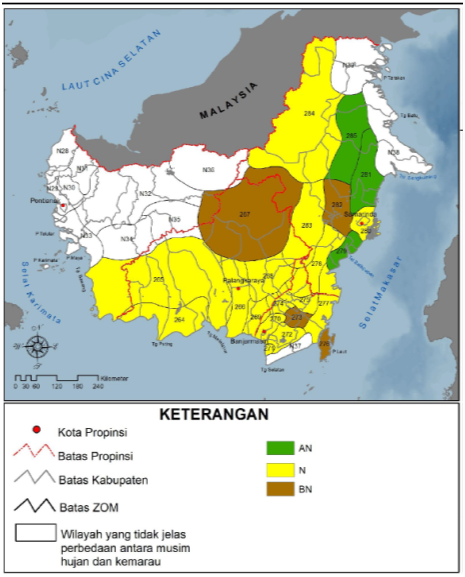 Palangkaraya and Balikpapan
By analyzing 30 years (1980-2010) rainfall data from  Indonesian Agency for Meteorological, Climatological and Geophysics, Palangkaraya has the normal range of rainfall from 1001-1500 mm/6 month. While Balikpapan has higher rainfall > 2000 mm/6 month. The precipitation pattern of Palangkaraya shows the rainfall peaks in this area from November – December – January (300 mm) and December – January (200mm) for Balikpapan. Minimum rainfall in Palangkaraya and Balikpapan occur in August (~100 mm), while in March, Palangkaraya will have heavy precipitation (-450mm) and Balikpapan will have less precipitation (~300mm)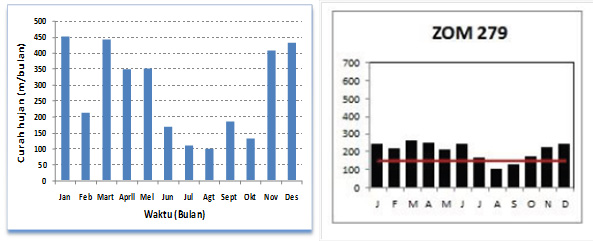 Belitung and Ternate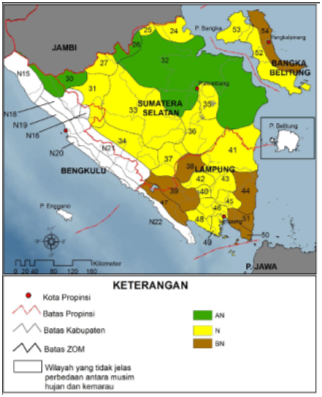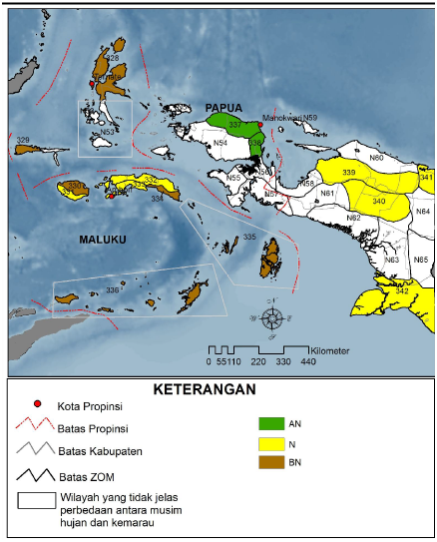 Based on precipitation data, Belitung laid in the non seasonal zone and the rainfall in this area are hard to define between rainy season and dry season (Figure 4).  The minimum precipitation in Belitung occur in June and the mean precipitation rate is ~100 mm. The peak of the rainy season is in November – December – January with rate  ~200 mm (Figure 6).
Ternate is also in non seasonal zone (Figure 5) and it has the equatorial pattern. The precipitation peaks (> 200 mm) in Ternate occurs in May and December while its minimum (~100 mm) is in August (Figure 6). The mean precipitation rate in March for Belitung and Ternate is 200 mm (Figure 5).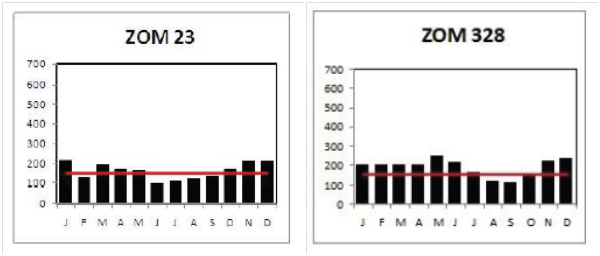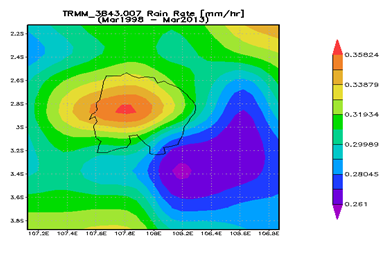 Base on spatial distribution in March, the largest precipitation is concentrate in the center of Belitung island and the rain intensity is > 0,35 mm/hour. Southeast area of Belitung usually has less precipitation rate than other area in the island (Figure 7).
Wind and Cloud Analyze
Based on NCEP/NCAR data on March, monsoon wind over Belitung, Palangkaraya, Balikpapan and Ternater is a weak monsoon (< 4 m/s). The wind over Belitung, Palangkaraya, and Balikpapan is a weak west wind while monsoon wind over Ternate is a weak north wind. (Figure 8).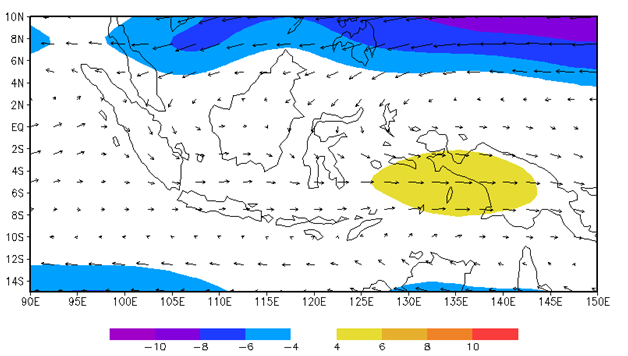 Based on Cloud data of Outgoing Longwave Radiation (OLR), the amount of cloud cover over Belitung, Palangkaraya, and Balikpapan is higher (OLR < 220 W/m2) compare to Ternate which clean enough from cloudiness (Figure 9).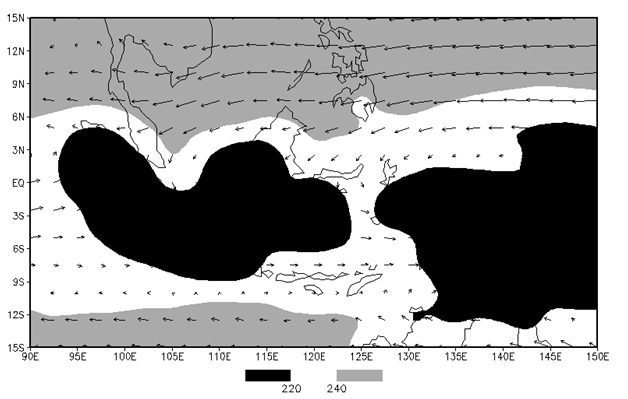 Clouds distribution in west Belitung are higher compare to the east and central area of the island. ORL data shows clouds distribution in the west is lower compare to the other area even though the difference is not significant (Figure 10).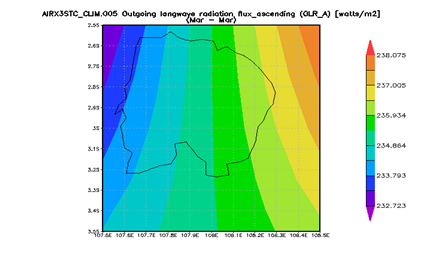 Base on precipitation, wind and cloud March data and analyze for Belitung, Palangkaraya, Balikpapan, and Ternate, we can conclude that Ternate has minimum cloud cover and lower intensity (~200 mm) of rainfall compare to the other area. And climate characteristics is suitable for 9 March 2016 Total Solar Eclipse observation site.As for other area such as Belitung, Palangkaraya, and Balikpapan, the highest precipitation rate (450 mm/month) will be in Palangkaraya. The cloud cover between the three cities shows not much different between them. Three of them will be cloudy in March but still, eclipse observation in this area is still be carried and preferable since they have more logistics for visitors.
[divider_line]
Loosely translated by langitselatan from Karakteristik Iklim di Palangkaraya, Balikpapan, Belitung, Ternate yang ditulis oleh Tim analisi Kondisi Iklim dan Cuaca Untuk Mendukung Pengamatan Gerhana: Erma Yulihastin, Juniarti Visa, Arief Suryantoro.