This post is also available in: Indonesian
Jailolo, a capital of West Halmahera regency in North Maluku. It is a small port that serves Halmahera's northwestern coastal villages.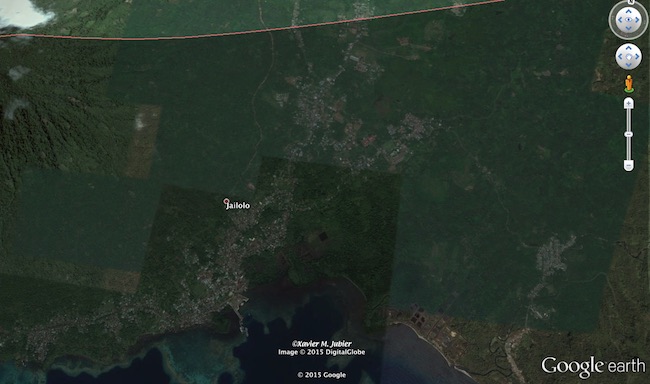 During Total Solar Eclipse 9 March 2016, Jailolo will serve as one of the city in the northern limit of the totality path. Being in the northern limit means it won't have the longest duration for totality. but still, it is worth to come to this city and observe the eclipse here. Jailolo will experience at least 1 minutes 7 seconds totality near the bay but if you heading north you will find yourself experiencing the totality less than 30 seconds. But it is worth if you looking for Bailey beads and a vacation in Jailolo bay. It worth to visit the island nearby as well as visiting diving site. Jailolo has at least 20 diving spot. Aside than that you can embrace the culture and enjoy the local culinary. In Jailolo you will find the Angel Bird ( Burung Bidadari in Indonesia or Semioptera Wallacii).
You can extend your stay for Jailolo bay Festival, an annual festive celebration of life & culture held by West Halmahera Regency.
Contact times

1st Contact or Start of Partial Eclipse: 08:36:24.8local time (WIT)
2nd Contact or Start of Total Eclipse: 09:52:57.0 local time (WIT)
Totality: 09:53:28.1 local time (WIT)
3rd Contact or End of Total Eclipse: 09:53:59.7 local time (WIT)
4th Contact or End of Partial Eclipse: 11:21:25.5 local time (WIT)


Transportation
To get to  Jailolo, first take a flight from Jakarta to Ternate by Garuda Indonesia, Lion Air, and Sriwijaya Air. And then take a speedboat to Jailolo.
Accommodation
Lodging in Jailolo is very limited but you can find one in Agoda. Aside than that there are a few small housing as well as homestay in Jailolo.
Links:
West Halmahera Regency: http://halbarkab.go.id/
Jailolo Bay Festival: http://jailolofest.com/
The Tourism Ministry: http://indonesia.travel/id/destination/432/pulau-halmahera