This post is also available in: Indonesian
North Maluku will become an eclipse destination 2016. Aside then Ternate, Tidore and also Maba, you can also choose a few other cities. One of them is Kao, a small coastal town on the eastern Indonesian island of Halmahera. It is located in the North Halmahera Regency, part of the province of North Maluku.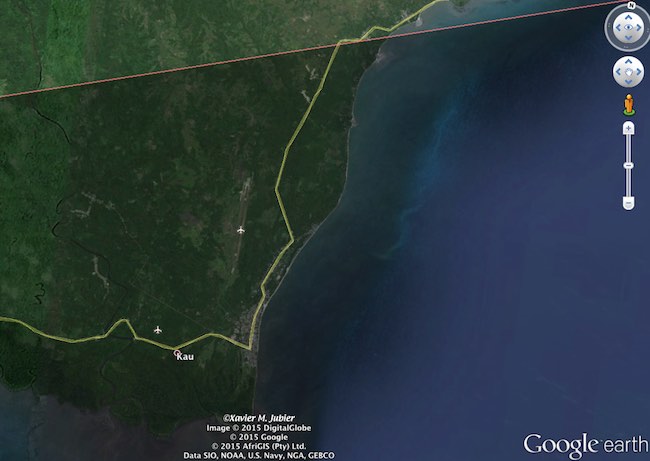 Kao, located in North Halmahera Regency, will become on of the lucky one to be in the northern limit of totality path. even though you can't have the longest duration of totality but it worth for you who wants to look for bailey beads. Totality in this small town will last in 1 minute and less if you heading to the north.
At Kao, you can choose several plain surface outside the city or take an advantage of observing the eclipse form Kuabang Airport.
Contact times:
1st Contact or Start of Partial Eclipse: 08:37:00.7 local time (WIT)
2nd Contact or Start of Total Eclipse: 09:53:54.5 local time (WIT)
Totality: 09:54:25.7 local time (WIT)
3rd Contact or End of Total Eclipse: 09:54:57.3 local time (WIT)
4th Contact or End of Partial Eclipse: 11:22:42.4 local time (WIT)

Transportation
To get to Kao,  Wings Air serves Manado – Kao inbound and outbound route. The domestic flight from Jakarta to Manado served by Garuda Indonesia, Batik Air, Lion Air, while international flight from Singapore served by Silk Air
But you can also choose a  flight from Jakarta to Ternate by Garuda Indonesia, Lion Air, and Sriwijaya Air. And then take a speedboat to Sofifi and going to Kao by car for about 2 hours from Sofifi.
Accommodation
Hotels in Kao is very limited or very rare. So the suggestion is to stay in Tobelo, an hour by car from Kao. Hotel list in North Halmahera can be found here: HalmaheraUtara.com
Links:
North Halmahera Regency: http://halmaherautarakab.go.id/
North Halmahera Tourism agency : http://halmaherautara.com